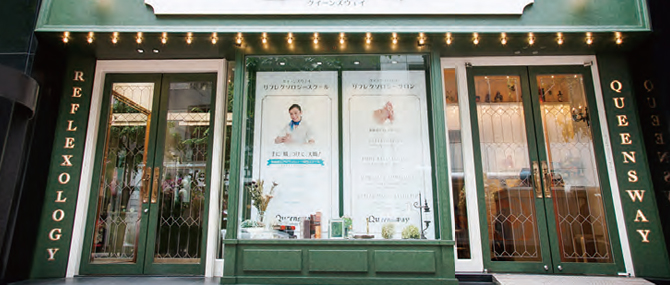 Japan's First Reflexology Brand
The first affordable reflexology salon in Japan, Queensway offers traditional British-style reflexology with pleasant stimulation that appeals to Japanese clients. Applying reflexology techniques developed to suit Japanese cultural preferences, Queensway boasts a remarkable repeat client rate.
Origin of Queensway

Queensway was established in Akasaka, Tokyo in 1998 as Japan's first reflexology salon.
Thanks to the signature stylish green exterior decor reminiscent of a traditional British pub and the word of mouth of clients captivated by stimulation never before experienced, Queensway received extensive coverage on TV and in magazines, rapidly achieving popularity.
Currently, 36 Queensway reflexology salons in major cities throughout Japan serves approximately 800,000 clients a year.

Reflexology is a health therapy involving the application of pressure to reflex points and areas on the feet.
Reflexology helps you relax mentally and physically and ameliorates Raynaud's phenomenon while reducing body fatigue by promoting blood and lymph flows. You can receive reflexology just by removing your socks etc. Moreover, as there is no need to lie down on a bed, there are no worries about your makeup or hairstyle being spoiled. You can refresh yourself in a short time, such as during a lunch break or when you have an interlude of free time during an otherwise busy day.


Body reflexology is for alleviating stiffness of not just the feet but the entire body. We offer diverse courses to suit client needs. They range from a quick treatment, which the client can receive while fully clothed and seated on a chair, and traditional Hawaiian oil treatment for promoting blood and lymph flows of the entire body, to detoxification treatment for which the therapists only use their hands to activate the client's metabolism so that metabolic waste products are eliminated from the body, helping one become clean and beautiful from the inside.

The therapists use their hands with a firm touch to massage out accumulated body toxins from the client in order to achieve a beautiful lithe physique. People with tough cellulite may feel slight pain at first because the therapist applies greater pressure, but as body toxins are eliminated smoothly over the course of several sessions, they experience a renewed sense of wellbeing.

This course debuted at the request of male clients. Based on their wishes to have treatment, received not while seated on a chair but while reclining on a bed, without removing their clothes, this course is a special body care package comprising body reflexology, feet reflexology, and stretch treatment.
*Menus available vary among salons. Please contact the salon before your visit.

Queensway Reflexology School Profile

Queensway Reflexology School opened in 1996, when the word "reflexology" was new to Japan, with the aim of introducing reflexology to Japan and establishing a new occupation, reflexologist, in the country. The school has contributed to the growing popularity of reflexology in Japan. Queensway Reflexology School trains novices, transforming them into professionals. With first-class lecturers and highly effective instructors, the school offers sophisticated classes. Mindful of evolving needs, the school's curriculum is designed to be flexible. Since the opening of the first school, approximately 40,000 reflexologists have graduated, many of whom are bringing their capabilities into full play at Queensway salons, healthcare institutions, and their own salons.