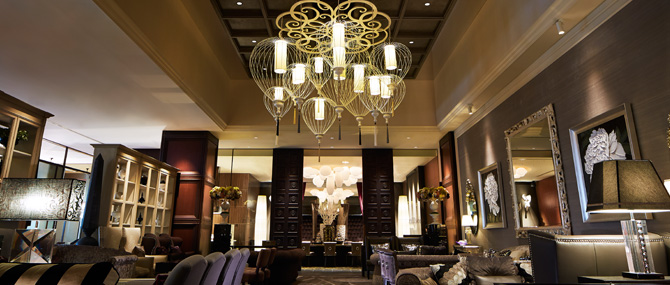 Superlative Hospitality in Luxurious Settings
The Group's hotel business started with the opening of Sir Winston Hotel in Yagoto, Nagoya in 2007, followed by management of InterContinental Tokyo Bay in 2011 and The Strings by InterContinental Tokyo in 2013. With the addition of one hotel scheduled to open in 2015, the Group will operate four hotels. Utilizing abundant business resources including the attractive added-values of high quality that have been created through the business, the Group will aim for further advance and development.

Hotel InterContinental Tokyo Bay celebrated its grand opening in 1995 as the first InterContinental Hotel in Tokyo. The renovation of its banquet hall commenced in 2012, and in 2013 the renovation of all facilities was completed, including the front reception desk, lounge, restaurants, and guest rooms. Since opening, the hotel has consistently welcomed guests with its luxurious space, comfortable facilities, and caring hospitality.

The Strings by InterContinental Tokyo, which is on the 24th floor of Shinagawa East One Tower conveniently located one minute from the South Exit of JR Shinagawa Station, offers a calm, relaxing space away from the din and bustle of the city. Surrounded by the most sophisticated interior portraying the harmony of East and West, customers can enjoy the finest hospitality and relaxation they could wish for during their hotel stay.

The district of Yagoto is surrounded by beautiful woods and expansive greenery with a profound history and culture. The opening of Sir Winston Hotel based on the concept of a "hotel for weddings" marked the beginning of the Best Bridal Group's hotel business, which carries our commitment to the wedding business. We welcome our customers with our best hospitality to ensure that precious memories are imprinted on the hearts of customers who have visited this hotel.