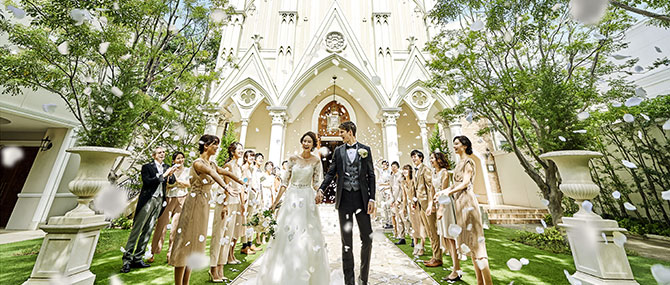 Diverse Wedding Venues Emphasizing Quality and Authenticity
The "guest house wedding" has become a popular choice. We directly operate 23 wedding venues in Japan, including venues at our hotels. We make the bride and the groom's wishes come true by producing a spectacular, one-of-a-kind wedding they can wholeheartedly enjoy with their guests. As a leader in the wedding business field, we have held weddings ceremonies for approximately 13,000 couples at our venues in Japan and overseas in 2013. Always determined to excel and to face new challenges, we are enriching our services and seeking to offer exceptional experiences that do not merely deliver satisfaction, but also delight.

This is a type of wedding where we rent the entire party venue resembling a Western residence, and the couple invites their guests to their "virtual home" to offer them their heartfelt hospitality. From the moment you walk in the gate, the place becomes your luxury home. From then on, it is the private space you have been dreaming of sharing with your guests.

For the Group's first hotel wedding business, we opened Sir Winston Hotel Nagoya in May 2007 under the concept of a "hotel for one-of-a-kind weddings." In 2011, we began operating Hotel InterContinental Tokyo Bay, providing the high-quality hospitality passed down from InterContinental Hotels & Resorts operating in more than 60 countries worldwide.

Hawaiian weddings are now a very popular choice for overseas weddings, and a priority arrangement can be made with the Paradise Cove Crystal Chapel, St. Andrew' s Cathedral, Kawaiaha'o Church, Central Union Church, and other churches in Hawaii. In Bali, Indonesia, a popular destination for resort weddings, we operate two churches, Tirtha Uluwatu and Tirtha Luhur Uluwatu. All of the party arrangements, dress selections, and travel arrangements for a wedding in Hawaii or Bali are made in Japan with the exclusive support of our staff members. You can rely on us to make your dream and fantasy come true.

Wide-ranging services to meet various needs The Best Bridal Group aims to offer the latest wedding styles by always closely analyzing needs and the latest trends and combining the experience and expertise built within the company with high-quality services provided by affiliates. Such efforts have created new wedding styles that we call "family wedding ceremony" and "Rakukon."